SoFA Market is an intimate food hall with a lineup of independent eateries, a neighborhood cafe, and house bar. We are located in the heart of the South First Arts (SoFA) District in San Jose, CA.
Hawaiian Poke Bowl
@hawaiian_poke_bowl
Family owned and operated, Hawaiian Poke Bowl sources sustainable and safe fish while utilizing all organic, GMO free, locally-sourced ingredients. Their nutritious and delicious poke bowls and acai bowls are prepared to-order with the perfect combination of healthy and deliciously tasty.
TACOS LOS 3 HERMANOS
@tacos_los_3_hermanos
Three brothers of this eatery bring authentic amazing flavors to each dish. From tacos, to burritos and chilaquiles, this spot offers everything you could want with Mexican food. Don't forget to check out their al pastor and all their other protein offerings. We think a plate of tacos is always a good idea.
Habana Cuba
@habanacubarestaurant
Award winning Cuban cuisine finally arrives in Downtown San Jose! Enjoy generous portions of authentic, original Cuban cuisine, and experience dining at its best. Latin flavors, colorful ingredients, and salsa rhythms are sure to create a memorable meal.
Vero's Coffee Bar
@veroscoffeebar
Vero's Coffee Bar is a family-owned and operated coffee house offering classic methods of espresso preparation with cold brew and pour over options, Vero's also showcases a mastery of specialty drinks including the hand-shaved Mexican Mocha and authentic Horchata Latte.

Vitamina
@vitaminajb
Vitamina Juices & Blends is a family-owned juice bar serving juice, smoothies, toasts and bowls. Their mission is to provide healthy options derived from natural and fresh ingredients free of artificial additives & concentrates. Their food encourages healthy and productive lives.
Sticks n' Greens
@sticksngreens
Sticks n' Greens is a California eatery offering an array of fresh world-class salads for the mindful spirit. Focusing on taste profiles from all over the world, Sticks n' Greens offers a selection of entrees that suit an active lifestyle and. Choose a signature salad, or build your own masterpiece!
Pizzetta 408
@pizzetta408_sj
A lifelong resident of San Jose, owner David Perez believes in showcasing the finest flavors of Naples. Pizzetta 408 embraces an artisanal approach rooted in Naples, Italy. The style uses a restrained amount of toppings to achieve the perfectly balanced pizza.

VIETNOMS
@vietnoms_sj
Vietnoms presents real Vietnamese food with a modern fast-casual dining experience. Vietnoms will also be offering a few fusion items which introduce twists on classic Vietnamese dishes, but at the root of its menu, Vietnoms serves authentic Vietnamese food.

UMI HAND ROLL
Umi Hand Roll brings tradition of Japanese sushi and hand rolls with a twist. Come try some special combos such as truffle salmon skin and roasted lobster roll.
Umi Hand Roll makes it fun to try 1, 2, 3, 4 different rolls and have a satisfied meal.
Artist of the month and EVENTS
San Jose's SoFA District is leading the growth of a new creative vibe in downtown San Jose. Attend the district's South FIRST FRIDAYS Artwalk, catch a live show, dine with us, grab a seat at the bar, go dancing. There is plenty to do in the SoFA District.
Artist of the month of May: Rudy Martinez
Join us at the Market for May's SoFA District First Friday Art Walk featuring photographer Rudy Martinez of Curated Studios.

"Desert Modern" sets out to capture the beauty of the seemly frozen in time Vista Las Palmas neighborhood in Palm Springs, CA. This Movie set-like set of homes with their perfectly preserved Mid-Century Modern aesthetic is the perfect setting for this set of portraits.

We invite you to come meet the artist, check out this series, enjoy some dinner and drinks before you continue on to see other artists along the SoFA District.
Showing until May 31st, 2019
Stop by the SoFA Market every Third Thursday and grab a variety of small plates from our participating eateries from their unique menus! We will also have live music and specials at The Fountainhead Bar

@fountainhead_bar
An urban bar with architecturally themed cocktails made from high-end, small batch spirits and locally sourced ingredients. Menu is adjusted according to freshness and product availability. Premium wine and rotating local craft beers too.
Book your next event with us
Welcome to our event space! Ask us about our private patio rentals, company happy hours, fundraising events, food & bar integration and more.
Back patio rental starts at $75. Please contact us for more details!
Please complete the form below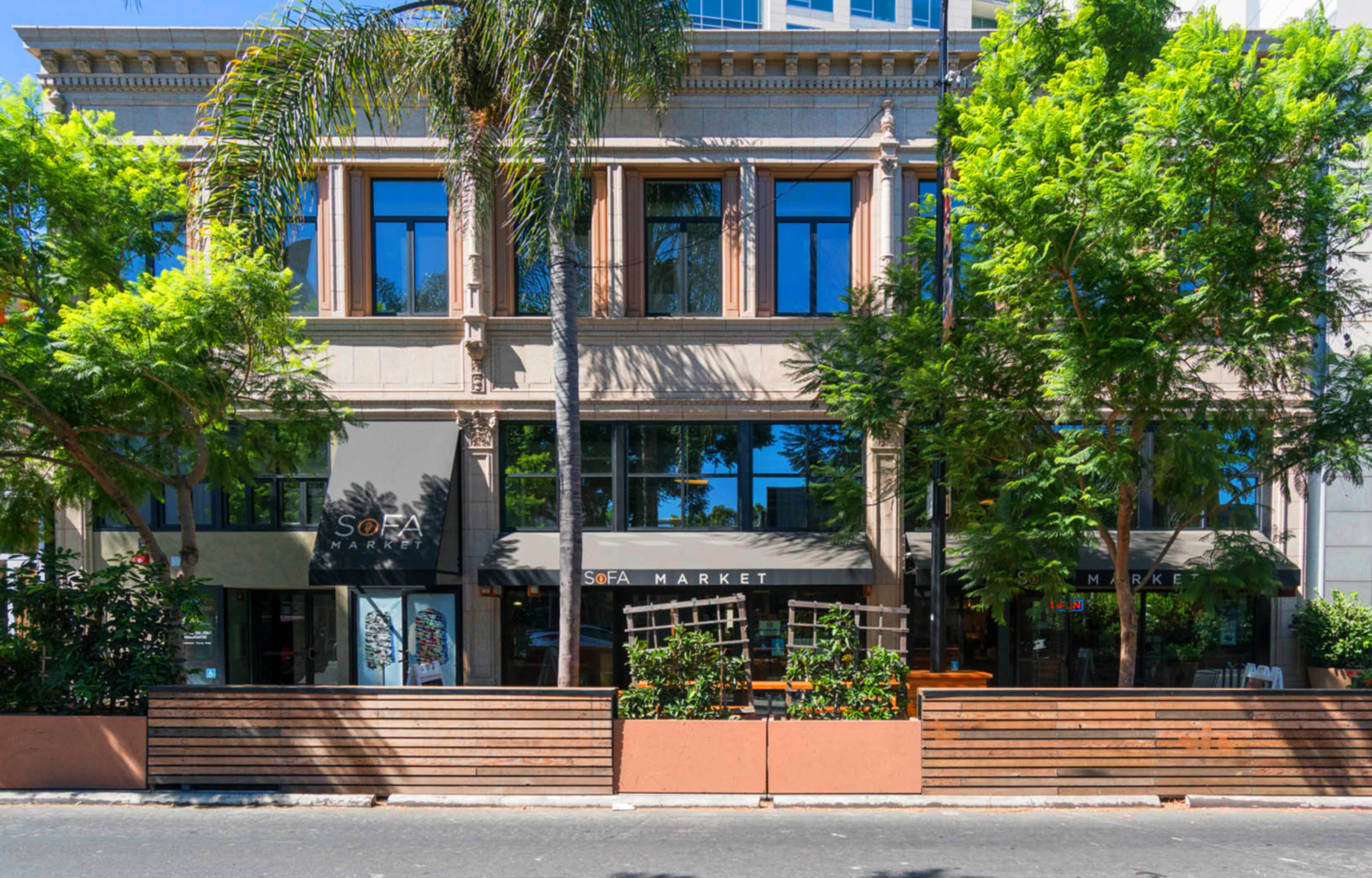 when WE BOUGHT THIS BUILDING AT THE END OF 2011...
it had been vacant for more than a few years. There was little street life in the neighborhood perhaps with the exception of the San Carlos and 1st St corner. The idea of a communal space or a neighborhood market came about as a way to help activate a street devoid of retail businesses.
We envisioned a group of like-minded vendors committed to creating a vibrant urban scene and interested in locally-sourced and organic products to come together and make something out of this empty space. It's been a long road.
Building in downtown San Jose, CA has never been easy and it wasn't easy for us. The financial risks were huge and finding tenants for an unproven concept was especially challenging. But we have made significant progress, albeit slowly. We're proud of the work we've done so far. We treasure the high quality cafes and eateries who make SoFA Market a destination. We believe in Downtown San Jose and the SoFA District in particular.

Thang Do
Owner SoFA Market, Osmanthus Group
Use SoFA District's PARKSJ Validation lots, listed in white on the photo to the right. Ask your eatery for a validation card when checking out.